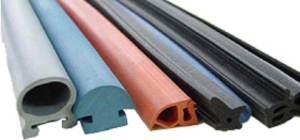 Qingdao Protech Rubber&Plastic provides a variety of custom extruded rubber plastic products including rubber plastic gaskets, seals, bumpers and a variety of other applications. We can supply custom extruded profiles in a variety of shapes and lengths with a rubber plastic compound specifically designed to meet your requirements. We supply prototype extrusions as well as high volume production.
The extrusion process is accomplished by heating and shearing uncured rubber plastic through the use of a temperature controlled auger screw, which pressurizes and forces the softened rubber plastic through an extrusion die at the auger's output in a continuous fashion. A profiling extrusion die is fixed to the auger's outlet and the softened rubber plastic takes on the shape of the die as it flows through it, resulting in a continuous strip of the desired profile. A variety of post extrusion curing can be done, depending on type of polymer.
Extruded Profile Polymers
CR (Neoprene)
CSM (Hypalon)
ECO (Hydrin)
EPDM (ethylene propylene)
HNBR (highly saturated nitrile)
IIR (butyl)
NBR (nitrile/buna n)
NBR/PVC (nitrile/PVC blend)
NR (natural rubber)
SBR (styrene butadiene)
SNR (synthetic natural rubber)
XNBR (carboxylated nitrile)
Sponge Rubber Foam Rubber
Acrylonitrile Butadiene Styrene (ABS)
Acrylic (Plexiglas)
Cellulose Acetate Butyrate (CAB)
Rigid Polyvinyl Chloride (RPVC)
High Density Polyethylene (HDPE)
High Impact Polystyrene (HIPS)
Low Density Polyethylene (LDPE)
Nylon 6 (Polyamide)
Nylon 6,6
Polycarbonate (PC)
Polyethylene Terephthalate Glycol-modified (PET-G)
Polypropylene (PP)
Polystyrene (PS)
Polyurethane (PU)
Thermoplastic Elastomer (TPE) (Santoprene ® or Sarlink ®)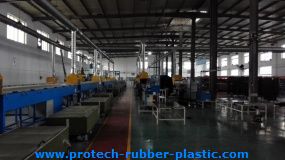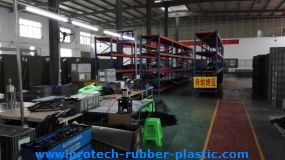 Special Capabilities
Microwave and autoclave (steam) vulcanization
Cut-to-length and continuous length extruded profiles
External identification printing
Specifications
Extruded profile sizes range from +.250" to +2.500"
Extruded profile wall thickness minimum .060"
Extruded Profile Shapes
D-, E-, H- and U-Channels
U-Channels with Bulbs
I-, L-, P- and T-Shaped Strips
Full Round Cord
Half Round Cord
Square Strips
Rectangular Strips
Mandrel Shaped Hoses, Elbows and Assemblies